8th Annual Goombay Beach Camping at Assateague Island 2022-SOLD OUT
The 8th Annual Goombay Beach Camping at Assateague Island-SOLD OUT
June 17th - June 20th
Assateague Island National Seashore, Bayside Dr, Berlin, MD 21811

Check In: Friday at 9:00am | Check Out: Monday at 11:00am

Join us for an exciting adventure as we embark on our 8th Annual Beach Camping Trip at the beautiful Assateague Island. Once we reach our destination we will set up camp, explore the island, play volleyball, cook dinner and enjoy an evening around an open fire. Campers can enjoy the world famous "wild horses" of Assateague but we highly encourage you to not feed the horses. Campers may also bring their fishing equipment to fish, hike the nature trials or just relax on the beach and enjoy the weekend.
EXTENDED STAY CAMPERS CHECK IN: Wednesday, June 15th at 12:00pm OR Thursday, June 16th ANYTIME
For those campers looking to arrive early and unwind before the party begins, come down for an extra two days and enjoy the beach. You may arrive on Wednesday or Thursday and stay until Monday. The option for the Extended Days will be available during checkout and an additional cost of $30 will be applied.
COST:
$75 per person (Includes camp site for three nights, fire wood, camp guides and games and activities. Campers must provide their own camp stove, food and transportation)
$30 per person additional Extended Stay Camping (Includes camp site for two nights. Campers must provide their own fire wood, camp stove, food and transportation)

* All payments are non-refundable but transferable to another camper to this trip only. This is a rain or shine event!
** UNFORTUNATELY NO PETS or KIDS ALLOWED **

EQUIPMENT
Camper's are responsible for bringing and setting up their own equipment. We rent tents and sleeping bags that can be secured and paid during registration (all equipment is washed and cleaned after each use). Equipment will be brought to the campsite for pick up and the staff will assist you with setting up your tent.
TENT RENTAL: $35 per small to Medium size tent (2-4 person size tents only) | SLEEPING BAG: $35 per sleeping bag
COVID PROCEDURES:
-Mask are highly encouraged but not mandatory
-Social distance in a manner that makes you comfortable

-We ask that if you are feeling sick or have a fever, please stay home
TRANSPORTATION & CHECK IN
Campers driving to the campsite can check in on Friday from 9am - 7pm (PLEASE ARRIVE BEFORE DARK). Once you arrive at the main gate, proceed to the camp ground parking lot. Do not check in at the Park Ranger Office. Once the parking lot fills up, you must park in the overflow lot (please refer to the camp site map in the GroupMe). Please DO NOT ARRIVE AT THE CAMP GROUND AFTER DARK!
Assateague Island National Seashore, Bayside Dr, Berlin, MD 21811

* There is a $20 fee for all vehicles that enter the park. If the main parking lot near the camp site fills up, all vehicles must park in the overflow parking lot. Parking spaces are not gaurenteed in the lot next to the campground.
** For those campers looking to CARPOOL, click the Carpool link and join our Carpool list. WE HIGHLY ENCOURAGE EVERYONE TO CARPOOL!

CLICK THIS LINK TO VIEW AND JOIN THE CARPOOL: https://www.groupcarpool.com/t...
GROUP COMMUNICATION
We invite you to join our event GroupMe to communicate with participants and to receive direct updates and information at the link below.
https://groupme.com/join_group/29480888/uulgL2
If you have any questions contact Butch at (202)210-1957
SUGGESTED ITEMS TO BRING

A suggested supply listed with be given to registered campers via email and through GroupMe
GOOMBAY GEAR
Make sure you purchase your official GOOMBAY GEAR during the registration process. You may also revisit OUR STORE to purchase your GOOMBAY GEAR
If you have any questions please contact Butch at (202)210-1957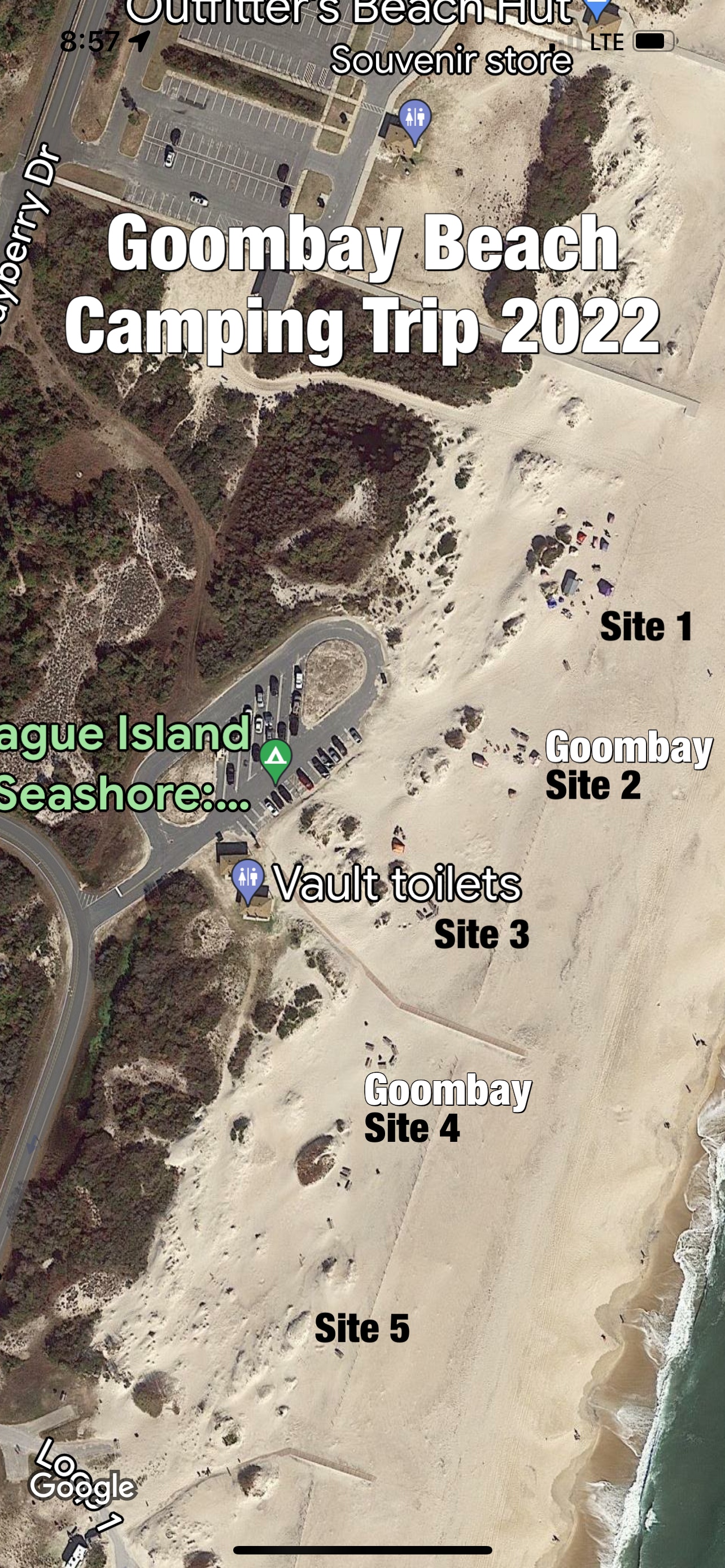 Use the form below to filter by sport, season, day(s) and/or location; or scroll to view all programs.
---