The Goombay Party Cruise to The Bahamas - 2022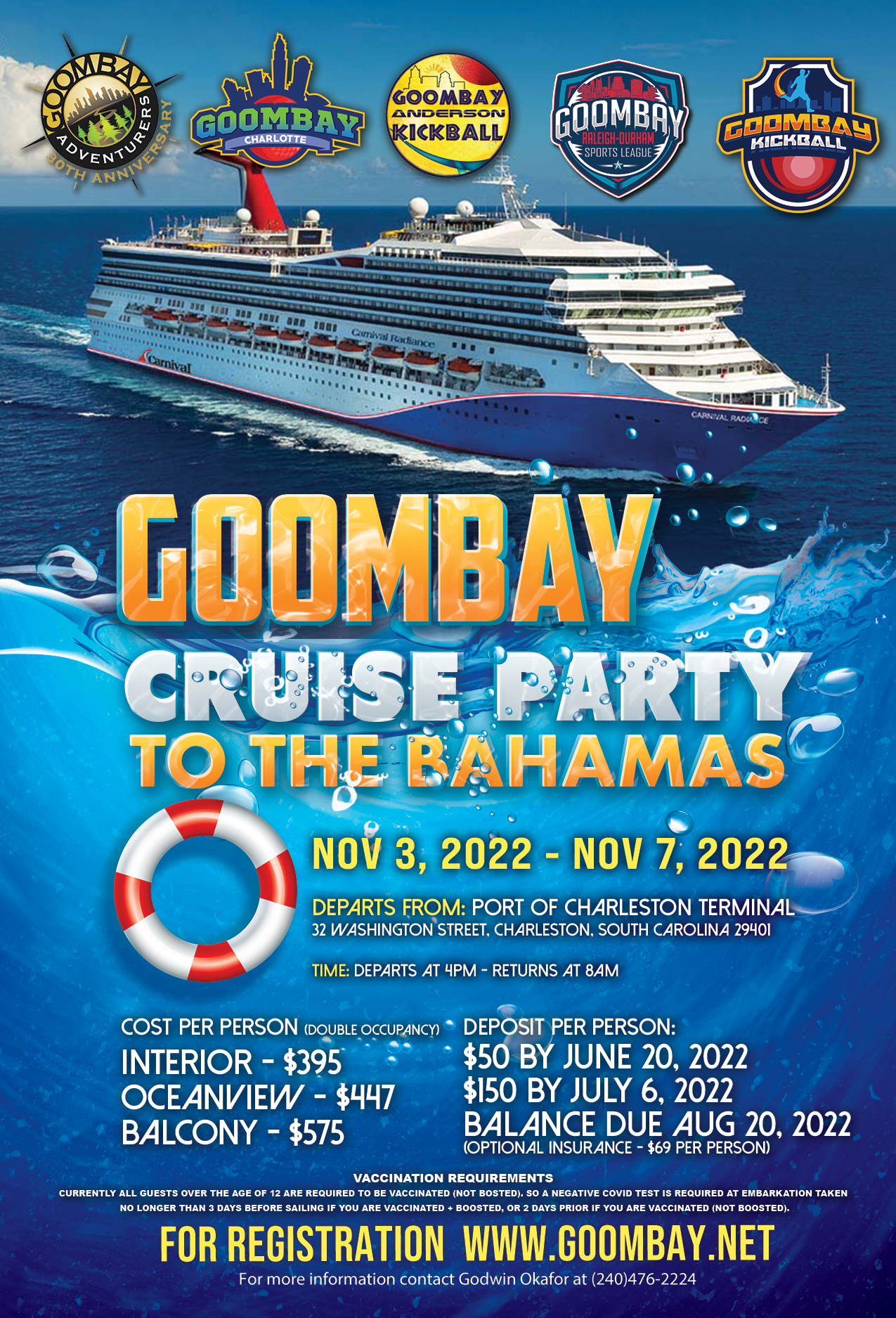 Goombay DC | Goombay Charlotte | Goombay Raleigh-Durham | Goombay Anderson
brings you
THE GOOMBAY PARTY CRUISE TO THE BAHAMAS - 2022


November 3 - 7, 2022

Join the Goombay Family for its Inaugural Goombay Party Cruise to The Bahamas. Spend an exciting weekend at sea with members of Goombay DC, Goombay Charlotte, Goombay Anderson and Goombay Raleigh-Durham, and make this one of the most memorable Goombay moments of the year.

REGISTER AT WWW.GOOMBAY.NET


ITINERARY
11/03/2022 - THU - CHARLESTON, SC
11/04/2022 - FRI - FUN DAY AT SEA
11/05/2022 - SAT - HALF MOON CAY, THE BAHAMAS
11/06/2022 - SUN - FUN DAY AT SEA
11/07/2022 - MON - CHARLESTON, SC

Boat Departs from The Carnival Cruise Ship Terminal | 32 Washington St, Charleston, SC 29403

CABIN REQUEST, RATES & CHARGES
* Prices below are for double room occupancy
Interior-$395
Ocean View-$447
Balcony-$575
All Rates and charges (U.S. dollars) are per person, and capacity controlled. Carnival reserves the right to increase published rates and airfare supplements without prior notice. However, fully paid or deposited guests will be protected, except for fuel surcharges, taxes, fees, port expenses, other surcharges, and changes to deposit, payment and cancellation terms/conditions which are subject to change without notice.
** THIS IS A NON-SMOKING CRUISE **

*Single Occupancy: Single occupancy is available at 200% of the total fare. Interior -$620; Oceanview - $724; Balcony - $980
*Third/Fourth Guests: Triple and Quad rates are available on request and accommodations are subject to availability. $281 pp for 3rd guest and forth guest.
*Gratuities: $55.96 per guest Standard Cabins-($13.99 per day), $63.96 per guest Suites ($15.99 per day) (subject to change), to cover the dining room team service, alternative dining service, and room steward. Those who choose not to pre-pay gratuities will have them applied to their Sail & Sign account onboard.
PAYMENT
DEPOSIT: $50 - Due by June 20, 2022
2nd DEPOSIT: $150 - Due by July 6, 2022
Full Payment due by August 20, 2022
Cancellation Policy for Standard Groups
Aug 21, 2022 $150 pp
Sept 10, 2022 50% pp
Oct 6 2022 75% pp
Oct 21, 2022 Full penalty
Vacation Protection Plan
*optional Insurance is highly recommended, it is $69 pp for double occupancy and must be paid with initial deposit if selected.
Vacation Protection Plan premium for single occupancy will be higher than those listed above.
The plan cost is fully refundable only if you are canceling outside Carnival's published penalty period.
* There will be a $50 net service fee for all changes involving names that are cruise only.
* All payments are non-refundable.
** Review the Carnival Cruise FAQ **
-----------------------------------------

ZOOM INFORMATION MEETING: Thursday, June 2nd from 7:00pm-9:00pm
https://us02web.zoom.us/j/82778789572?pwd=u0DK1hYGPPB3tCqYY5k5W17zqm7tCL.
Meeting ID: 827 7878 9572 Passcode: 037616
-----------------------------------------
ACTIVITIES INCLUDE
* Onboard Happy Hour Meet-n-Greet
* Goombay All Yellow Party
* Island Activity
* Aqua Volleyball
* Karaoke Party
* Island Adventure Activities (additional cost)
* Pool & Jacuzzi Party
VACCINATION & TESTING STANDARDS
Fully Vaccinated Guests
VACCINATION REQUIREMENTS
Currently all guests over the age of 12 are required to be vaccinated to sail. Also a negative COVID test is required at embarkation taken no longer than 3 days before sailing if you are vaccinated + boosted, or 2 days prior if you are vaccinated (not boosted).
TESTING REQUIREMENTS
Except where destination requirements differ, guests who are up to date with their vaccines may take their test within three days prior to sailing. Example: If the sailing is on Saturday, guests who are up to date with their vaccines may take their test as early as Wednesday and as late as Saturday, if guaranteed to receive results in time for check-in.
Original vaccination record issued by the country's health authority (i.e., U.S. CDC's Vaccination Record Card). A digital COVID-19 Certificate (QR code acceptable), a record of COVID-19 vaccination from a healthcare provider (original digital email accepted), and a personal electronic health record or government Immunization Information System record is also acceptable. Copies or photos are not accepted.
The name and birth date on the vaccination record must match the guests travel documents.
The vaccination dates must indicate the guest has completed the required doses no later than 14 days prior to the sailing date (not including embarkation day). Vaccine type, dates administered, and lot numbers must be clearly visible. When applicable, booster dose must also be reflected on vaccination records.
Guests are strongly encouraged to review their vaccination records and ensure they meet our standards, as well as have proof of their negative COVID-19 test result, prior to traveling to the cruise terminal to prevent a situation where they may not be able to cruise or be eligible for a refund.

For more information contact Godwin Okafor at (240)476-2224

Use the form below to filter by sport, season, day(s) and/or location; or scroll to view all programs.
---
Guest Fees

Regular

$395.00

Payment Plans Available

Guest Fees

Regular

$447.00

Payment Plans Available

Guest Fees

Regular

$575.00

Payment Plans Available

Guest Fees

Regular

$978.00

Payment Plans Available