At Capacity
Goombay Goes Skydiving 2017 · Co-Ed Novice
Sold Out
MonTueWedThuFriSatSun between 1:00pm and 5:00pm
Sky Divers Fees

Regular

279.0

+ 5.0 Processing Fee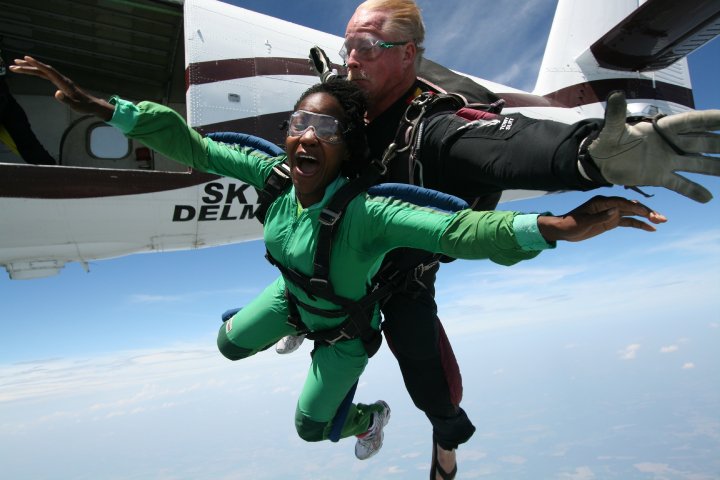 Join the Goombay Family for an adventure at skydiving.

Goombay Goes Skydiving

RESCHEDULED - Saturday, June 3, 2017 | 1:00pm (Expect to be here 2-4 hours)
DC Skydiving Center
9272 Green Meadows Road
Warrenton, VA 20187
Cost: $279 per person

Includes:
~ One tandem skydive.
You can purchase photographs and/or video on site separately.
---
IMPORTANT SKYDIVE INFORMATION
Plan to arrive about 15 minutes early to fill out your paperwork before your class starts.
Classes are 4-6 people and include up to 30 minutes of pre-flight instruction.
Your instructor will help you gear up and safely board the plane by walking behind the plan and away from the propellers.
The door opens around 10,000' and you hear "READY, SET, GO!!!" Remember to smile for your 120 mph, 40 second freefall video.
When your parachute opens, you feel the wind stop and peacefully float down from 5000'. Your parachute ride lasts about 7minutes.
It generally takes 2 hours to complete a class and make your first jump but we may adjust your schedule for weather.
Tandem sky diving means you are harnessed to a certified sky dive instructor and you jump together.
The maximum weight is 240 lbs. There is an extra charge if you are over 200 lbs.
You must be 18 years old to jump.
You must sign a waiver to jump.
Your payments are non-refundable but transferrable for this trip only.
For more information, contact Akua at (301)440-0641