At Capacity
The 2017 FALL Coed DRAFT Kickball League Kickball (Outdoor) · Co-Ed Intermediate
Sold Out
MonTueWedThuFri
Sat
Sun
12:00pm to 4:00pm
DRAFT Varsity Pitch/Family League
Team Fees

Regular

45.0

per player + 2.0 Processing Fee
Free Agent Fees

Regular

45.0

+ 2.0 Processing Fee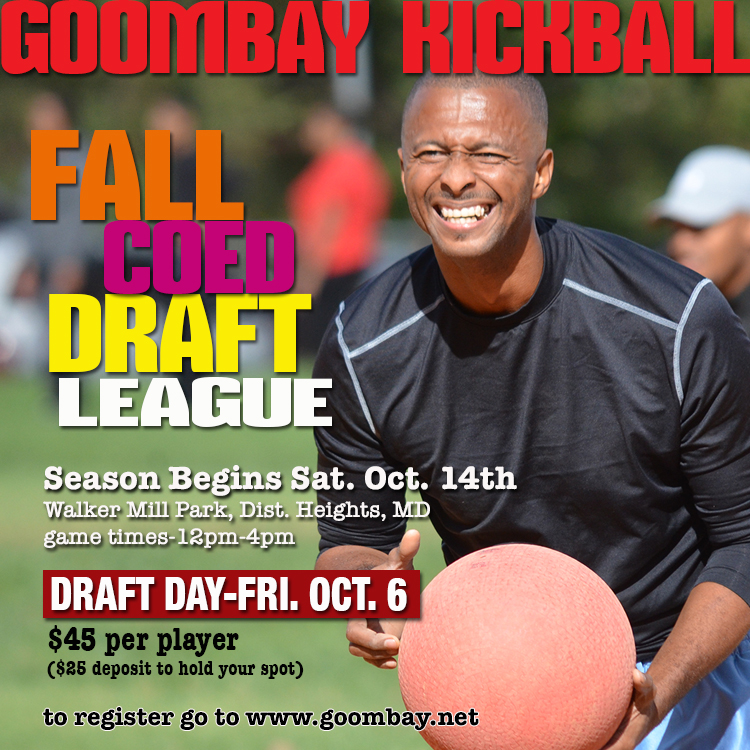 Welcome to the 2017 Goombay Fall Coed DRAFT Kickball League
What is a DRAFT league you ask.... Imagine the NFL draft but with kickball and no salary cap :-)
We are looking forward to an exciting fall season and everyone is eager to participate in the draft. Please read the information below and make sure you register and pay before October 6th!
LEAGUE INFORMATION
LEAGUE DATES: Saturday, October 14 - Saturday, November 11th.
LOCATION: Walker Mill Park, District Heights, MD
GAME TIMES: 12:00pm - 4:00pm
COST: $45 per player (a $25 non-refundable deposit is due now to hold your spot) ALL PAYMENTS MUST BE PAID BY OCTOBER 6TH by 10am!
LEAGUE HIGHLIGHTS
This is a four game mini-season with playoff's and championships.
All registered players will be drafted
Teen players between the ages of 13-17 are allowed to play
This is a Goombay Varsity style pitching league (side arm pitching is allowed)
Mid season Trades are allowed
League shirts are not included
DRAFT INFORMATION
CAPTAIN REGISTRATION: Captains registration will take place from September 11-29. If you are interested in being a captain please mark the box during registration.
Captains will draw for draft spots on Monday October 2nd
DRAFT DAY: Friday, October 6th from 2:00pm - 5:00pm (this is a online draft that will take place at the Goombay Sports Facebook group: https://www.facebook.com/groups/166887843453233/ )
12-15 players will be allowed for each team
Captains will consist of one male and one female
DRAFT TRADE DAY: October 25th at 1:00pm
For more information contact Butch at 202-210-1957