At Capacity
2022 MD Co-Ed Kickball-Spring Kickball · Co-Ed All
Sold Out
MonTueWedThuFriSat
Sun
12:00pm to 7:00pm
Goombay Kickball Rules
Team Fees

Early Bird

$70.00

per player + $3.00 Processing Fee

Regular

$80.00

per player + $3.00 Processing Fee

Late

$90.00

per player + $3.00 Processing Fee
Free Agent Fees

Early Bird

$70.00

+ $3.00 Processing Fee

Regular

$80.00

+ $3.00 Processing Fee

Late

$90.00

+ $3.00 Processing Fee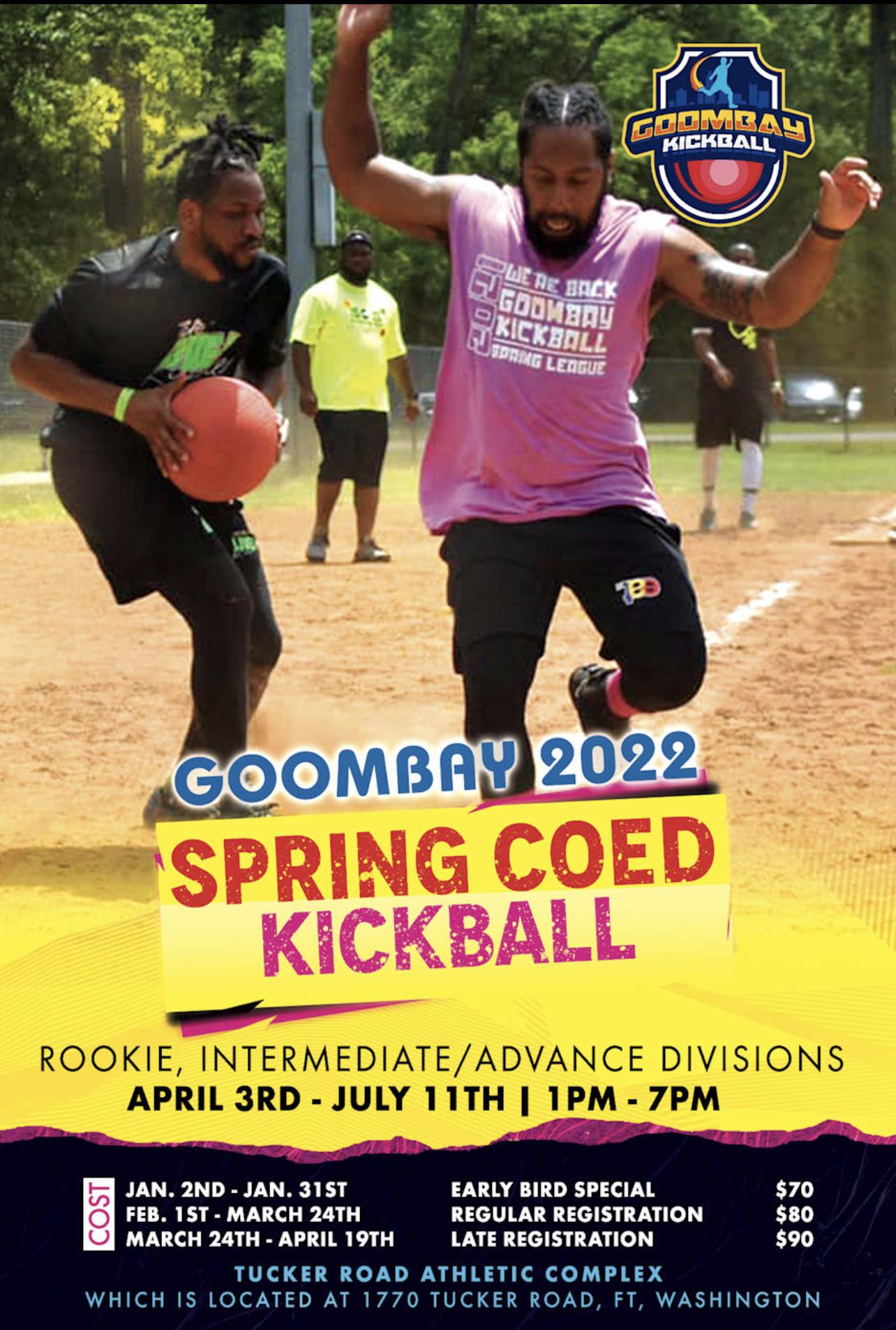 Welcome to the 2022 Goombay Spring Coed Kickball League
Advanced/Intermediate and Novice Divisions
Welcome to Goombay Kickball and our 9th spring kickball season. We are looking forward to another exciting season of coed kickball and we're hoping that you will join us. During the registration process you will be asked to sign up as a FREE AGENT, TEAM CAPTAIN OR TEAM PLAYER. If you already belong to a team, click Team Player and click the team you are playing on. If you have your own team, click TEAM CAPTAIN and submit your team name. If you do not have a team to play on, register as a FREE AGENT and we will add you to a team.
The 2022 season we will be offering two divisions with different skill levels. Each team will be guaranteed 8-9 games within the regular season and a playoff game if they qualify.

LEAGUE DATES
April 3th - July 10th - Advanced/Intermediate and Novice

GAME TIMES
12:00pm - 7:00pm - Advanced/ Intermediate, and Novice
* we will not have games on the following days, April 17, May 8th, May 29th, June 19th and July 3

PLAYER COST
Jan 1st - Jan 1st - New years day sale - $60
Jan 2nd - March 4th - Early Bird Special - $70
March 5th - April 1st - Regular Registration - $80

April 2nd - April 15th - Late Registration - $90
All games will be played at Tucker Road Athletic Complex located at 1770 Tucker Road, Ft. Washington, MD.

NEWBIES OPEN PRACTICE
We will be hosting open practice for all new players on the following dates:
March 6, 13, 20, 27 from 1p - 3p. The location will be determined.


Bye Requests
Captains can request 1 'weekend Bye' during the season. The request must be received by March 25th. No additional bye requests will be accepted after March 25, 2022. Goombay reserves the right to decline requests.


** Please take time to read the LEAGUE RULES **
If you have any questions please contact Butch (202-210-1957) or Godwin (240-476-2224)